ARTGITATO
William Butler Yeats
English literature English poetry
Littérature Anglaise – Poésie Anglaise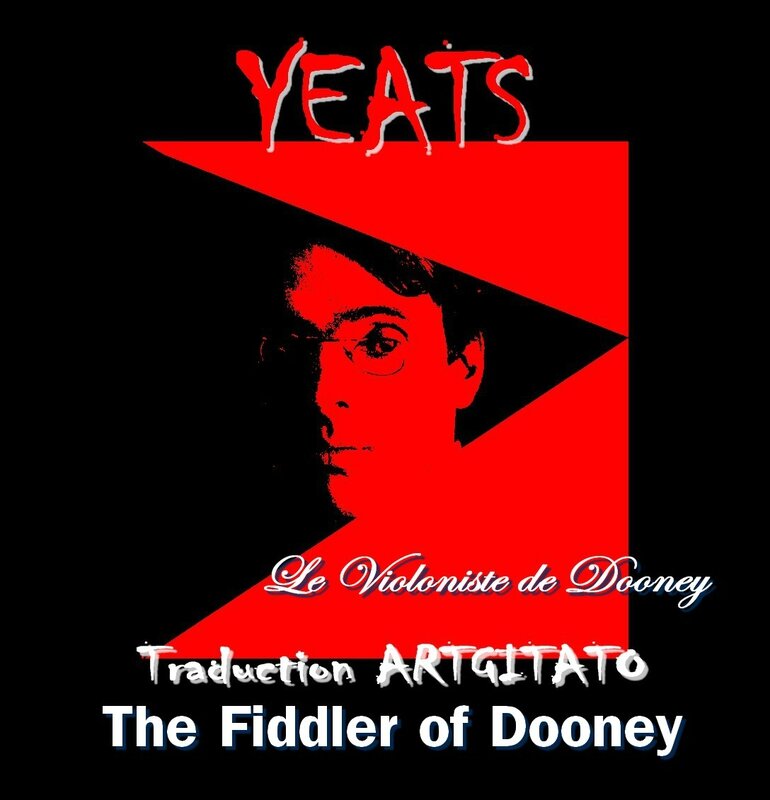 YEATS
1865-1939
[The Wind Among The Reeds –  1899]
–
THE FIDDLER OF DOONEY
poem
Le Violoniste de Dooney
[Poème]

————————–

When I play on my fiddle in Dooney,  
Quand je joue de mon violon à Dooney,
   Folk dance like a wave of the sea;   
Les gens dansent comme une vague de la mer;
My cousin is priest in Kilvarnet,  
Mon cousin est prêtre à Kilvarnet,
My brother in Mocharabuiee.  
Mon frère à Mocharabuiee.
I passed my brother and cousin:      
Je passai voir mon frère et mon cousin :
They read in their books of prayer;  
Ils lisaient dans leurs livres de prières ;
I read in my book of songs  
Je lisais dans mon livre de chansons
I bought at the Sligo fair.   
Que j'ai acheté à la foire de Sligo.
When we come at the end of time,  
Quand nous arriverons à la fin des temps,
To Peter sitting in state,   
Devant Pierre assis comme le veut son état,
He will smile on the three old spirits, 
Il sourira aux trois vieux esprits,
But call me first through the gate;  
Mais m'appellera le premier pour passer la porte ;
For the good are always the merry,   
Car les bons sont toujours joyeux,
Save by an evil chance,   
Sauf par un  malheureux hasard,
And the merry love the fiddle   
Et les joyeux adorent le violon
And the merry love to dance:  
Et les joyeux adorent danser :
And when the folk there spy me,  
Et quand les gens de là-bas me guetterons,
They will all come up to me,  
Ils viendront tous à moi,
With 'Here is the fiddler of Dooney!'  
Avec des «Voici le violoniste de Dooney ! »
And dance like a wave of the sea.
Et danseront comme une vague de la mer.
*****************
Traduction Jacky Lavauzelle
ARTGITATO
****************

The Fiddler of Dooney