The Evening Land DH LAWRENCE
David Herbert Lawrence
1885-1930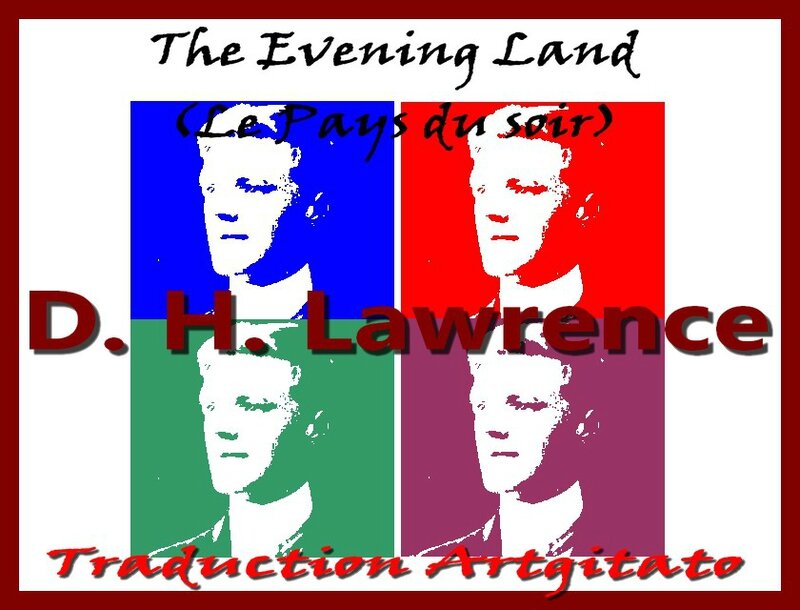 Oh, America,
Ô Amérique,
The sun sets in you.
En toi se couche le soleil.
Are you the grave of our day?
De notre jour, es-tu la tombe ?
Shall I come to you, the open tomb of my race?
Dois-je venir à toi, tombeau ouvert de ma race ?
I would come, if I felt my hour had struck.
Je viendrais, si je sentais que mon heure avait sonné.
I would rather you came to me.
Je préfèrerais que tu viennes à moi.
For that matter
D'ailleurs
Mahomet never went to any mountain
Mahomet n'a jamais été vers la montagne
Save it had first approached him and cajoled his soul.
Qui s'est approchée de lui et a cajolé son âme.
You have cajoled the souls of millions of us,
Tu as cajolé les âmes de millions d'entre nous
America,
Amérique
Why won't you cajole my soul?
Pourquoi ne veux-tu point cajoler mon âme ?
I wish you would.
Je souhaite que tu veuilles.
I confess I am afraid of you.
Je le confesse : j'ai peur de toi.
The catastrophe of your exaggerate love,
La catastrophe de ton amour démesuré,
You who never find yourself in love
Toi qui jamais n'a trouvé l'amour
 But only lose yourself further, decomposing.
Mais, seulement, te perds un peu plus, te décomposant.
You who never recover from out of the orgasm of loving
Toi qui n'a jamais recouvré de l'orgasme d'aimer
Your pristine, isolate integrity, lost aeons ago.
Ta virginité, ton intégrité solitaire, perdue il y a des siècles.
Your singleness within the universe.
Ton unicité dans l'univers.
You who in loving break down
Toi qui en aimant brises
And break further and further down
Et brises de plus en plus 
Your bounds of isolation,
Les limites de l'isolement,
But who never rise, resurrected, from this grave of mingling,
Mais qui jamais ne te lèves, ressuscitée, à partir de ce tombeau de mélange,
In a new proud singleness, America.
Dans une nouvelle et fière singularité, Amérique.
Your more-than-European idealism,
Ton plus-qu'-européen idéalisme,
Like a be-aureoled bleached skeleton hovering
Comme un squelette planant blanchi, auréolé
Its cage-ribs in the social heaven, beneficent.
Sa cage–côtes dans le ciel social, bienfaisant.
And then your single resurrection
Et puis ta résurrection unique
Into machine-uprisen perfect man.
En homme parfait surgissant de la machine.
Even the winged skeleton of your bleached ideal
Même le squelette ailé de ton idéal blanchi
Is not so frightening as that clean smooth
N'est pas si effrayant que que celui, propre et lisse
Automaton of your uprisen self,
Automate de ton être ressuscité,
Machine American.
Machine américaine.
Do you wonder that I am afraid to come
Tu te demandes si j'ai peur de venir
And answer the first machine-cut question from the lips of your iron men?
Et de répondre à la première question coupée de la machine dans les bouches de tes hommes de fer?
Put the first cents into metallic fingers of your officers
Mets les premiers cents aux doigts métalliques de tes officiers
And sit beside the steel-straight arms of your fair women
Et s'asseoir à côté des bras d'acier de tes justes femmes
American?
Américain ?
This may be a withering tree, this Europe,
Cela peut être un arbre sec, cette Europe,
But here, even a customs-official is still vulnerable.
Mais ici, même un douanier officiel est toujours vulnérable.
I am so terrified, America,
Je suis tellement terrifié, Amérique,
Of the iron click of your human contact.
Des cliquetis métalliques de tes contacts humains.
  And after this
Et après cela,
The winding-sheet of your self-less ideal love.
Le linceul de ton amour idéal altruiste
Boundless love
Infini amour
Like a poison gas.
Comme un gaz empoisonné.
Does no one realise that love should be intense, individual,
Est-ce que personne ne se rend compte que l'amour doit être intense, individuel,
Not boundless.
Non sans bornes,
This boundless love is like the bad smell
Cet amour infini est comme la mauvaise odeur
Of something gone wrong in the middle.
De quelque chose qui a mal tourné en son milieu.
All this philanthropy and benevolence on other people's
behalf
Tout cela en philanthropie et bénévolement envers les autres
Just a bad smell.
Juste une mauvaise odeur.
Yet, America,
Pourtant, Amérique,
Your elvishness.
Ton enfantillage,
Your New England uncanniness,
Ton étrange Nouvelle-Angleterre,
Your western brutal faery quality.
Ta brutale qualité féérique de l'Ouest.
My soul is half-cajoled, half-cajoled.
Mon âme est à moitié cajolée, à moitié cajolée.
Something in you which carries me beyond
Quelque chose en toi qui me porte au-delà
Yankee, Yankee,
Yankee, Yankee,
What we call human.
Ce que nous nommons humain.
Carries me where I want to be carried . . .
Me porte où je veux que l'on me porte …
Or don't I?
Ou pas ?
What does it matter
Qu'importe
What we call human, and what we don't call human?
Ce que nous appelons humain, et ce que nous n'appelons pas humain ?
The rose would smell as sweet.
La rose sentirait tout aussi bon.
And to be limited by a mere word is to be less than a
hopping flea, which hops over such an obstruction at
first jump.
Et être limité par un simple mot c'est être inférieur à un
saut de puce, qui, elle, la puce, élimine l'obstacle au tout
premier saut.
Your horrible, skeleton, aureoled ideal.
Ton horrible, squelette, auréolé d'idéal.
Your weird bright motor-productive mechanism,
Ta superbe mécanique lumineuse à produire des moteurs,
Two spectres.
Deux spectres.
But moreover
Mais de plus
A dark, unfathomed will, that is not un-Jewish;
Une sombre et insondable volonté, qui n'est pas non–juive;
A set, stoic endurance, non-European;
Une stoïque endurance, non–Européenne ;
An ultimate desperateness, un-African;
Un ultime acharnement, non-africain ;
A deliberate generosity, non-Oriental.
Une générosité délibérée, non-orientale.
The strange, unaccustomed geste of your demonish New World nature
L'étrange, geste inhabituel de ta démoniaque nature de Nouveau Monde
Glimpsed now and then.
Entrevue maintenant et ailleurs.
Nobody knows you.
Personne ne te connaît.
You don't know yourself.
Toi-même, tu ne te connais pas.
And I, who am half in love with you,
Et moi, moi qui suis à moitié amoureux de toi,
What am I in love with?
De quoi suis-je amoureux ?
My own imaginings?
De mes propres fantasmes ?
Say it is not so.
Dis : cela n'est pas vrai.
Say, through the branches
Dis, à travers les branchages
America, America
Amérique, Amérique
Of all your machines,
De toutes tes machines
Say, in the deep sockets of your idealistic skull,
Dis, dans les tréfonds de ton crâne idéaliste,
Dark, aboriginal eyes
Noirs, yeux d'aborigène
Stoic, able to wait through ages
Stoïque, capable d'attendre à travers les âges
Glancing.
Contemplant.
Say, in the sound of all your machines
Dis, dans le tintamarre de toutes tes machines
And white words, white-wash American,
Et les mots blancs, Américain blanc de chaux,
  Deep pulsing of a strange heart
Pulsation profonde d'un étrange cœur
New throb, like a stirring under the false dawn that
precedes the real.
Nouveau battement, comme une agitation sous la fausse aurore qui
précède la vraie.
Nascent American
Américain naissant
Demonish, lurking among the undergrowth
Démoniaque, tapi dans les sous-bois
  Of many-stemmed machines and chimneys that smoke
like pine-trees.
De nombreuses tiges des machines et des cheminées qui fument
comme des pins.
Dark, elvish,
Sombre, féérique,
Modern, unissued, uncanny America,
Moderne, inédite, Amérique du surnaturel,
Your nascent demon people
Ton peuple démonique nouveau
Lurking among the deeps of your industrial thicket
Tapi dans les profondeurs de ton fourré industriel
Allure me till I am beside myself,
Me captive quand je ne suis plus moi-même,
A nympholepht.
Un nympholepte.
« These States! » as Whitman said,
Comme disait Whitman : « Ces Etats ! »
Whatever he meant.
Quoi qu'il entendait par là.
Baden-Baden
*********************
Traduction Jacky Lavauzelle
ARTGITATO
*********************