WHEN WILT THOU TEACH THE PEOPLE DH LAWRENCE
LITTERATURE ANGLAISE -English Literature – English poetry
David Herbert Lawrence
1885-1930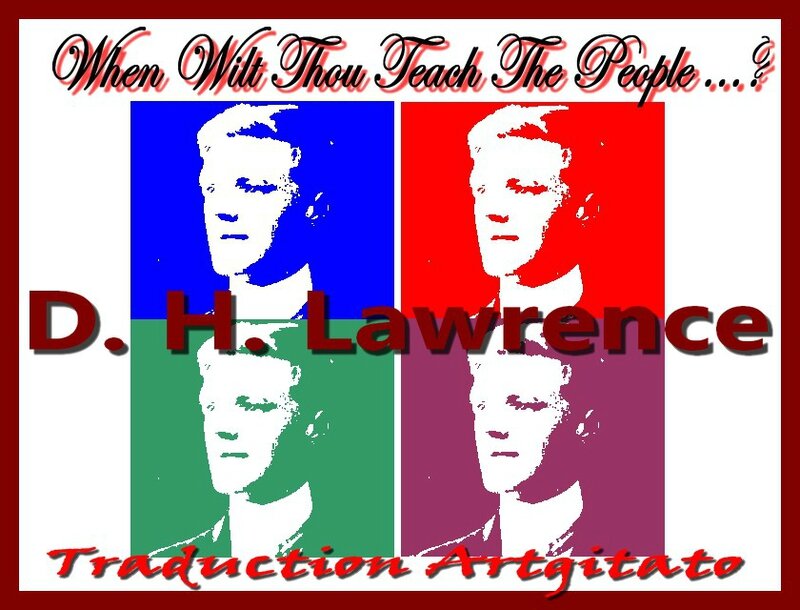 WHEN WILT THOU TEACH THE PEOPLE… ?
Quand vas-tu enseigner au peuple … ?

When wilt thou teach the people,
Quand vas-tu enseigner au peuple,
  God of justice, to save themselves – ?
Dieu de justice, à se sauver lui-même…?
They have been saved so often
Il a été sauvé si souvent
and sold.
et vendu.
O God of justice, send no more saviours
O Dieu de justice, n'envoie plus de sauveurs
of the people!
au peuple !
When a saviour has saved a people
Quand un sauveur a sauvé un peuple
they find he has sold them to his father.
ils comprennent qu'ils sont vendus à son père.
They say : We are saved, but we are starving.
Ils disent : « Nous sommes sauvés, mais nous sommes affamés. »
He says : The sooner will you eat imaginary cake in the mansions of my father.
Il dit : « Le plus tôt vous mangerez du gâteau imaginaire dans les demeures de mon père ».
They says : Can't we have a loaf of common bread ?
Ils disent : « Ne pouvons-nous avoir une miche de pain ordinaire ?« 
He says : No, you must go to heaven, and eat the most marvellous cake.-
Il dit : « Non, vous devez d'abord aller au ciel, et ensuite manger le plus merveilleux des cakes … »
Or Napoleon says: Since I have saved you from the
ci-devants,
Ou Napoléon dit : « Depuis que je vous ai sauvé des ci-devant,
  you are my property, be prepared to die for me, and to
to work for me. –
vous êtes ma propriété, vous êtes prêts à mourir pour moi, et
à travailler pour moi… »
Or later republicans say: You are saved,
Ou plus tard les républicains ont dit : « Vous êtes sauvés,
therefore you are our savings, our capital
par conséquent, vous êtes nos économies, notre capital
 with which we shall do big business. –
avec quoi nous ferons de grandes entreprises… »
Or Lenin says : You are saved, but tou are saved wholesale.
Ou Lénine dit : « Vous êtes sauvé, mais tous êtes sauvés en gros.
You are no longer men, that is bourgeois ;
Vous n'êtes plus des hommes, ce qui est bourgeois ;
you are items in the soviet state,
vous êtes des éléments de l'Etat soviétique,
and each item will get its ration,
et chaque élément aura sa ration,
but it is the soviet state alone which counts
mais c'est le seul Etat soviétique qui compte
the items are of small importance,
les éléments sont de peu d'importance,
the state having saved them all.-
l'Etat les ayant tous sauvés… »
And so it goes on, with the saving of the people.
Et cela continue, avec le salut des personnes.
God of justice, when wilt thou teach them to save
themselves?
Dieu de justice, quand vas-tu leur apprendre à se sauver
eux-mêmes ?
*******************
Traduction Jacky Lavauzelle
ARTGITATO
*******************