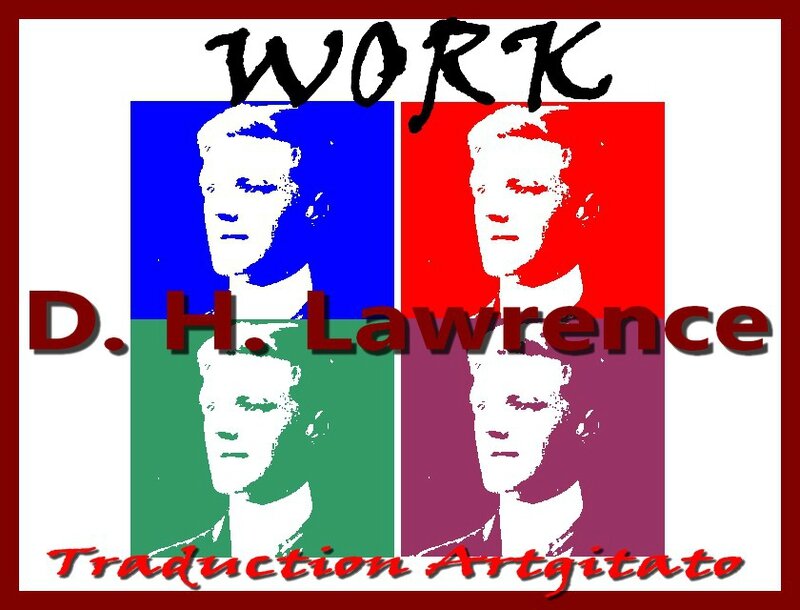 There is no point in work
Il n'y a pas de sens dans le travail
unless it absorbs you
à moins qu'il ne vous absorbe
like an absorbing game.
comme un jeu absorbant.
If it doesn't absorb you
Si le travail ne vous absorbe pas
if it's never any fun,
Si vous n'y trouvez aucun plaisir,
don't do it.
Ne le faites pas.
When a man goes out to work
Quand un homme est à fond dans son travail
he is alive like a tree in spring,
il est en vie comme un arbre au printemps,
he is living, not merely working.
il est vivant, pas seulement au travail.
When the hindus weave thin wool into long, long lengths of stuff  Quand les hindous tissent la laine fine dans de longues, longues pièces de tissu
with their thin dark hands and their wide dark eyes and their still souls absorbed
avec leurs fines mains noires et leurs grands yeux sombres et leurs âmes encore absorbées
they are like slender trees putting forth leaves, a long white web of living leaf,
ils sont comme des arbres minces mettant en avant les feuilles, une longue bande blanche de feuilles vivantes,
the tissue they weave,
ils tissent le tissu
and they clothe themselves in white as a tree clothes itself in its own foliage,
et ils se vêtissent  en blanc comme un arbre se revêt dans son propre feuillage,
As with cloth, so with houses, ships, shoes, wagons or cups or loaves.
Comme avec le vêtement, ainsi les maisons, les navires, les chaussures, les wagons ou des tasses ou des pains.
Men might put them forth as a snail its shell, as a bird that leans its breast against its nest, to make it round,
Les hommes pourraient les faire comme un escargot sa coquille, comme un oiseau qui penche sa poitrine sur son nid, afin de l'arrondir,
As the turnip models its round root, as the bush makes its own flowers and gooseberries,
Comme les navets modèlent sa racine ronde, comme le buisson fait ses propres fleurs et ses groseilles à maquereau,
putting them forth, not manufacturing them,
de les créer à partir de lui, et non de les manufacturer,
And cities might be as once they were, bowers grown out from the busy bodies of people.
Et les villes pourraient être aussi une nouvelle fois ce qu'elles étaient : tonnelles cultivées à partir des corps occupés des hommes.
And so it will be again, men will smash the machines.
Et il en sera ainsi encore, l'homme brisera les machines.
At last, for the sake of clothing himself in his own leaf-like cloth tissued from his life,
Enfin, pour le plaisir de se vêtir dans son propre tissu comme les feuilles tissent sa vie,
and dwelling in his own bowery house, like a beaver's nibbled mansion
et logeant dans sa propre maison de la nature, comme un castor construisant son manoir
And drinking from cups that came off his fingers like flowers off their five-fold stem,
Et buvant dans des gobelets qui sont le produit de ses doigts comme les fleurs des tiges quintuples,
he will cancel the machines we have got.
il détruira les machines que nous avions.
*******************
Traduction Jacky Lavauzelle
ARTGITATO
*******************************