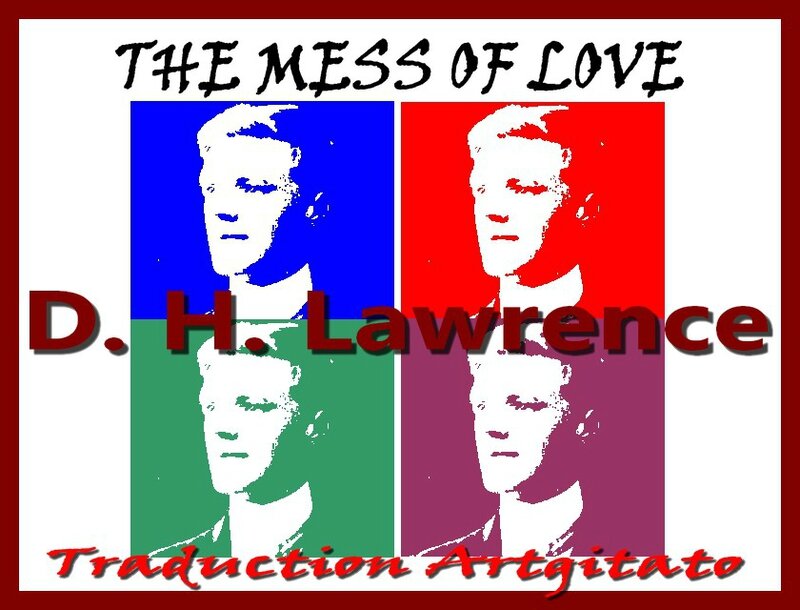 THE MESS OF LOVE
LE GÂCHIS DE L'AMOUR

 We've made a great mess of love
Nous avons fait un grand gâchis de l'amour
Since we made an ideal of it.
Depuis que nous avons fait de lui un idéal.
The moment I swear to love a woman, a certain woman, all my life
Dès le moment où je jure d'aimer une femme, une certaine femme, toute ma vie
That moment I begin to hate her.
Dès ce moment,  je commence à la détester.
The moment I even say to a woman: I love you! —
Dès le moment où je dis à une femme : Je t'aime! –
 My love dies down considerably.
Mon amour considérablement diminue.
The moment love is an understood thing between us, we are sure of it,
Dès le moment où l'amour est une chose comprise entre nous, où nous sommes sûrs de lui,
It's a cold egg, it isn't love any more.
Il devient un œuf froid, ce n'est plus de l'amour.
Love is like a flower, it must flower and fade;
L'amour est comme une fleur, il doit fleurir puis se faner ;
If it doesn't fade, it is not a flower,
S'il ne se décolore pas, ce n'est pas une fleur,
It's either an artificial rag blossom, or an immortelle, for the cemetery.
soit il s'agit d'une fleur artificielle en chiffon, soit d'une immortelle, pour le cimetière.
The moment the mind interferes with love, or the will fixes on it,
Au moment où l'esprit interfère avec l'amour, au moment où la volonté se fixe sur lui,
Or the personality assumes it as an attribute, or the ego takes possession of it,
Ou que la personnalité l'assume comme un attribut, ou que l'ego en prend possession,
 It is not love any more, it's just a mess.
Ce n'est pas plus de l'amour, c'est juste un gâchis.
And we've made a great mess of love, mind-perverted, will-perverted, ego-perverted love.
Et nous avons fait un grand gâchis de l'amour, perverti par l'esprit, perverti par la volonté, perverti par l'égo.
********************
Traduction Jacky Lavauzelle
ARTGITATO
********************