BARE ALMOND TREES POEM DH LAWRENCE
David Herbert Lawrence
LITTERATURE ANGLAISE
English Litterature
D. H. Lawrence
1885-1930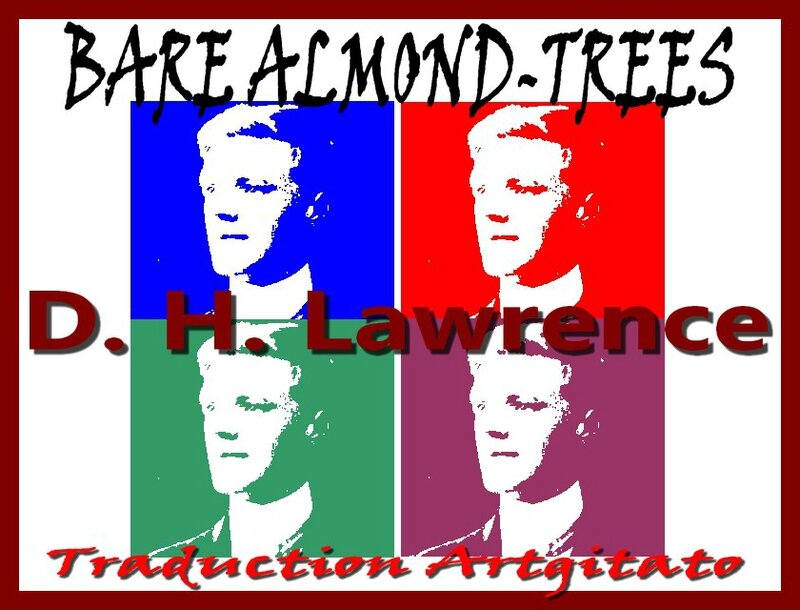 BARE ALMOND-TREES
 AMANDIERS DEPOUILLES

Wet almond-trees, in the rain,
Amandiers humides, sous la pluie,
Like iron sticking grimly out of earth ;
Comme le fer se colle sinistrement sur la terre;
Black almond trunks, in the rain,
Troncs noirs des amandiers, sous la pluie,
Like iron implements twisted, hideous, out of the earth,
Comme des outils de fer tordus, hideux, sortant de la terre,
Out of the deep, soft fledge of Sicilian winter-green,
Sortant de la profondeur, de la douceur sicilienne du vert de l'hiver,
Earth-grass uneatable,
Herbe de terre immangeable,
Almond trunks curving blackly, iron-dark, climbing the slopes.
Troncs d'amandiers se courbant en noir, fer sombre, escaladant les pentes.
Almond-tree, beneath the terrace rail,
Amandier, sous la terrasse,
Black, rusted, iron trunk,
Noir, rouillé, le tronc de fer,
You have welded your thin stems finer,
Vous avez soudé vos minces tiges les plus fines,
Like steel, like sensitive steel in the air,
Comme l'acier, comme l'acier sensible dans l'air,
Grey, lavender, sensitive steel, curving thinly and brittly up in a parabola.
Gris, la lavande, l'acier sensible, se courbant finement et se cassant dans une parabole.
What are you doing in the December rain ?
Que faites-vous sous la pluie de Décembre?
Have you a strange electric sensitiveness in your steel tips ?
Vous avez une sensibilité électrique étrange dans vos pointes d'acier ?
Do you feel the air for electric influences
Sentez-vous l'air aux influences électriques
Like some strange magnetic apparatus ?
Comme certains appareils magnétiques étranges ?
Do you take in messages, in some strange code,
Prenez-vous des messages, dans un code étrange,
From heaven's wolfish, wandering electricity, that prowls so constantly round Etna ?
Du  ciel sauvage, électricité vagabonde, qui rôde  constamment autour de l'Etna?
Do you take the whisper of sulphur from the air ?
Prenez-vous le murmure du soufre dans l'air?
Do you hear the chemical accents of the sun ?
Entendez-vous les accents chimiques du soleil?
Do you telephone the roar of the waters over the earth ?
Avez-vous téléphoné le grondement des eaux sur la terre?
And from all this, do you make calculations ?
Et de tout cela, ne faites-vous pas des calculs?
 Sicily, December's Sicily in a mass of rain
Sicile, la Sicile de Décembre sous une masse de pluie
With iron branching blackly, rusted like old, twisted implements
Avec le fer des noirs branchements, rouillés, comme de vieux instruments tordus
And brandishing and stooping over earth's wintry fledge, climbing the slopes
Et brandissant et se penchant sur l'envol hivernal de la terre, escaladant les pentes
Of uneatable soft green !
D'un vert tendre immangeable!
 ***********
Traduction Jacky Lavauzelle
ARTGITATO
************